The ICZ represents a resource of over 7,000 keepers worldwide.
Keepers have a large range of specialised skills and knowledge that can be harnessed for conservation work not only involving breeding of threatened species in zoos, safaris, aquariums, rehabilitation centres and sanctuaries but which can extend into work in the field.
These talents include good observation and identification skills, knowledge of animal behaviour, animal handling, recording of scientific information and good physical fitness for undertaking strenuous work in the field. All of these must be taken in consideration as a huge potential for conservation.
What does the ICZ Conservation Committee do?
1: Keeper notes
We publicise conservation projects, where keepers are involved in any manner, in the quarterly ICZ electronic newsletter.
2: Conservation Map
We created this Map for encouraging keepers to share their projects with us.
The reason is to have a visual picture of where keepers are involved in conservation projects and reinforce the feeling of pride about being a keeper, as in many countries keepers are not very well recognised.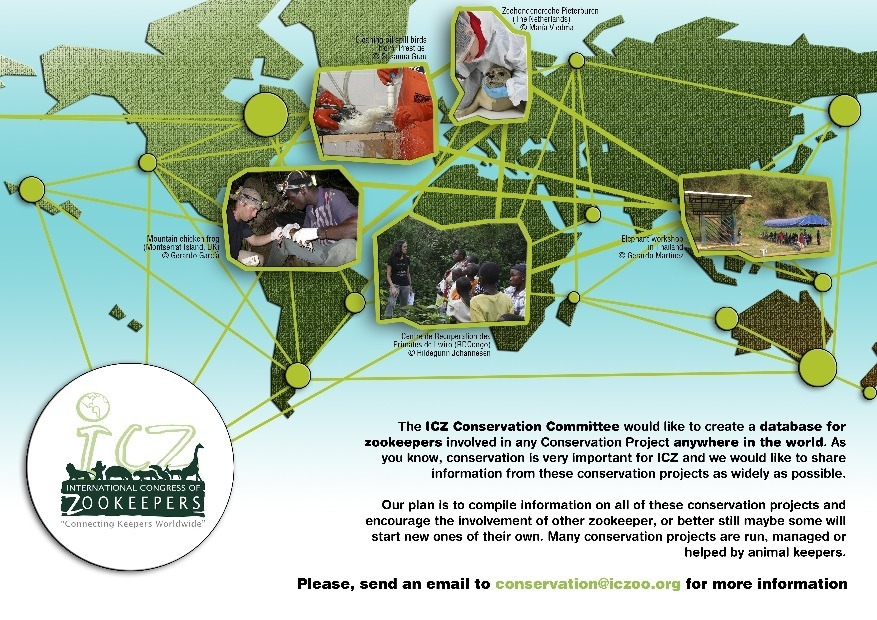 3: Database
The ICZ hold a database of projects which are managed by keepers around the world. The objective is to share the information as widely as possible and encourage the involvement of other animal keepers, or even better, inspire them into starting their own project.
At the moment, we have 63 conservation projects from 12 different countries.


4: ICZ Website Conservation Section
We aim to display a list of conservation projects in need of volunteers or assistance with other resources or funding.


5: One euro from ICZ Congress Registration
The ICZ donates 1 euro from each registration at the ICZ congress to a NGO related with reforestation.
In the 2015 Congress in Leipzig this money went for planting trees on Nusa Penida, an island close to Bali, in Indonesia.
ICZ Keeper Conservation Grant
We are proud to offer an annual grant for conservation projects involving keepers up to the value of $US1,000.
The grant applications are assessed by the ICZ grants committee based on who is most able to make best use of the funds. We consider the importance of how the project is currently funded, a detailed budget, if the project is part of a recovery project, if there is any keeper involvement either through volunteer work or fundraising, and how the grant may benefit the community through education.
Applications will be called for on the 1st September each year with a closing date of 31st December. After which the successful candidate will be announced the 1st February. 
For further information about the committee or the grant please see the ICZ website