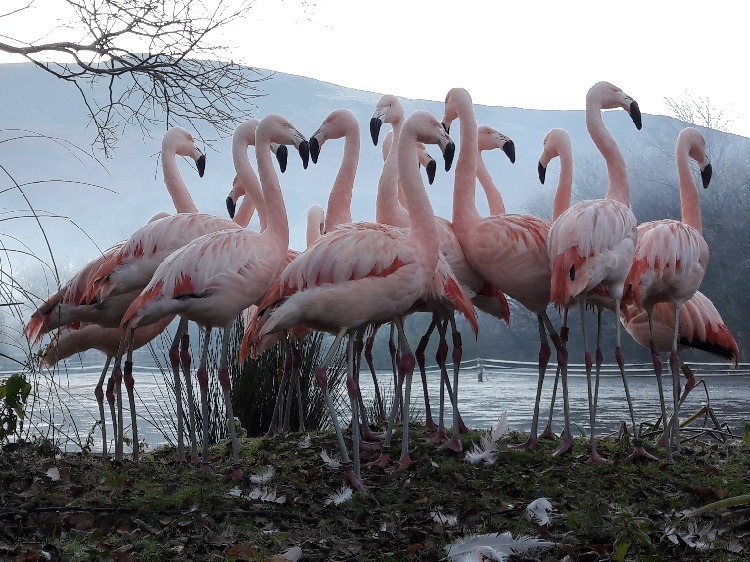 ABWAK Symposium 2019 – Flamingo Land
This year's symposium promises to be bigger and better than ever! With room for more delegates and everything we need for the weekend available on site, Flamingo Land are pulling out all the stops to make this event amazing.
Flamingo Land is a Zoo, Theme Park and Holiday Resort situated in Malton, North Yorkshire. Amid some of the most beautiful countryside in the UK, there is also plenty to see and do on site and it offers the benefit of being able to provide many types of accommodation for all delegates.
This year's theme is 'Collaboration' - working together to improve animal husbandry and best practice.  As wild animal keepers, we collaborate within and out of our organisation working together to achieve goals.  Teams that work collaboratively often access greater resources, recognition and rewards.
One of the main aims of the ABWAK symposiums is to strengthen our links with wild animal keepers across the country and provide the platforms for sharing knowledge and experiences, supporting our objectives to improve cooperation among animal keepers, both nationally & internationally.
The ABWAK symposium will consist of two full days of interesting, informative and inspirational talks from your fellow keepers, and practical workshops, which will give you the chance to engage, learn, discover and even inspire others.
Pool Party Icebreaker, Friday 1st March, 7 - 9pm
Pack your swimsuits and join us for the Friday night ice breaker, a pool party not to be missed!
Splash Zone is Flamingo Land's multi-discipline leisure complex with two fantastic pools, an infinity edge pool, counter-current swim jets, a spa whirlpool, giant inflatables and two indoor flume slides.
Swimming is optional but this evening will give you the opportunity to reconnect with old friends and make new ones ahead of the symposium. Welcome canapes will be available on arrival, other food will be available to order and there may be more food outlets open on site for delegates to use.
All site guests benefit from access to the leisure complex throughout their stay. Facilities include a luxurious sauna, steam room and Jacuzzi, plus a well-equipped gymnasium for those who like to keep in shape.
To be held at The Club. Flamingo Land has given us this spacious and unique venue for the duration of the weekend. Trade stands – including ABWAK merchandise, registration, refreshments and all catering will all be in this amazing space.
Registration will be open from 9:00 with refreshments available, and other food outlets are open for breakfast.
A full programme of presentations for the two-day symposium will be available soon.
ABWAK and Flamingo Land have put together a range of workshops, these will be run on both days. Some of the workshops have limited capacity.
Please look at our list of workshops and indicate your 1st, 2nd and 3rd choices of workshop when booking.  Your workshop choices will be confirmed at the Symposium,
Workshops and content may be subject to change.
Pricing Structure  - this year we have changed our pricing structure to include the Saturday night dinner and entertainment.  Last year's dinner was sold out and we had many people trying to book on the day.  This year, with the event and accommodation all on one site, we have decided to do an all inclusive price.
This year's shindig will also be held at the The Club.  This is included in the price you pay for the symposium and includes a street food and theme park inspired buffet and entertainment provided by the Flamingo Land entertainment team.  The evening's entertainment will be all the thrill spills of the carnival – come along and enjoy the spectacle.
As Flamingo Land is also a holiday resort, there are a range of accommodation options available which can be booked for one, two or three nights.  All are self-catering giving you the option of providing your own food and drink, and there's a supermarket on site too.
BY CAR
From the A64/A170, Flamingo Land is situated off the A169 Malton to Pickering Road.
BY TRAIN
Our local train station is at Malton - for further details please call 08457 484950.
BY BUS
The National Express drops off at York (tel 08717 818181) and from York. Or you can catch the Yorkshire Coastliner, (tel 01653 692 556 or 0113 244 8976) from York railway station, which drops off at Flamingo Land.
The Askham Bryan Wildlife and Conservation Park (part of Askham Bryan College) just 40 minutes away in York has offered free admittance to any Symposium delegates who would like to visit them either on Friday 1st or Monday 4th March.  It would be rude not to!